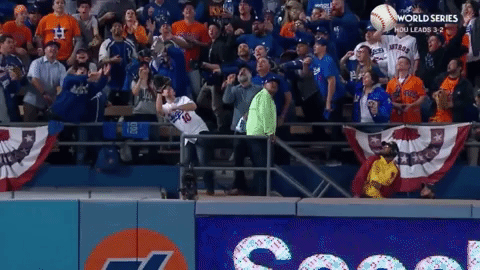 This guy blew his one and only shot.
The whole reason you bring a glove to a game is for that exact moment. The one he has been ready for ever since he was a dodger fan, dreaming of. Then by the grace of God the moment arrives, under the big lights, the grandest stage there he is as a fan in position to catch the home run ball that won game 6 of the most epic world series to date.
He's been waiting for this exact moment all his life and it has finally come, he has manifested his destiny.
While the pressure is on he feels confident, poised, in excellent position, he can't believe this is even happening. And then as he feels the ball grace his glove, the glove he brought to this ball park 463 times over the last 10 years, his entire body fills with the glorious feeling of joy and excitement.
He squeezes his glove and smiles with tremendous delight thinking, "I can't believe it, finally, I've caught a home run ball" but then as instantly as he heard that crack of the bat and the ball beaming in his direction he is stricken with absolute failure and he cringes as he hears the piercing scream of his wife who just took that glorious home run ball straight to the gut.
Maybe next time bud…just wait another 10 years.